Collectives retreats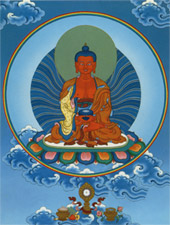 The retreats (unless otherwise noted) are directed by Drubpön Ngawang Tenzin Pagsam Yongdu and start in the evening by a practice at 6 p.m.

The contribution to Tsok and lamp offerings is left to one's own choice.
Registration is to be made before the beginning of the retreats, on the centre's website (www.drukpa.eu).
Registration and bookings are confirmed once the paiment is received, at the latest 3 days before the arrival date.
Retreat led by :
Normal
80% rate
70%rate
50% rate
Drubpön Ngawang Tenzin,
Lama Namgyal, Lama Thrinle,
a nun or a monk.
20.00 €
16.00 €
14.00 €
10.00 €
NB : The different rates are applied according to the income per month :
normal : income over 2000€
80% rate : income between 1500€ and 2000 €
70% rate : income between 1000€ and 1500€
50% rate : income under 1000€
The practices concluding the retreat, as well as thoses conducted on special days are open to all.
GURU DRAKPO KILAYA:
GURU DRAKPO KILAYA is one of the wrathful manifestations of Guru Padmasambhava. This practice is conducted in order to overcome the obstacles and the serious illnesses. His Holiness Gyalwang Drukpa has given the empowerment and the instructions several times.
Date : 1st to 4th of March 2020,
26th of December 2020 to 1st of January 2021,
18th to 22nd of February 2021
OPENING OF THE HEART - WISDOM AND COMPASSION (with Lama Namgyal):
Just like the sun illuminates the space, developing the qualities of love, compassion, joy and equanimity makes us more open to the intelligence of the heart. This acknowledgement of the true nature of our mind, the primordial consciousness, then becomes the source of an infinite and unconditional compassion, which aims for the liberation of all beings from the suffering, from its causes and from the primordial ignorance.
Date : 10th to 13th of April 2020 (postponed to a later date)
AMITABHA (with the nun Jigme Meunlam):
Buddha of infi nite light, red in colour, Amitabha rules over a pure land renowned for being easily accessible, « The Land of Great Bliss ».
Date : 1st to 3rd of May 2020
THE SEVEN INTERDEPENDANT LINKS OF MAHAMUDRA (with Lama Thrinle):
Formal practice of the text on the 7 interdependent links and of the profound meditation associated to it, according to Gyaltsen Tulku Rinpoche's transmission at Drukpa Plouray last year. Recitation of the great aspirational prayer from the 1st Gyalwang Drukpa, Tsangpa Gyaré. It will be an opportunity to deepen the understanding of these texts, by reading them in french, and to familiarize with their practice.
Date : 20th to 24th of May 2020
CHOD SENGEY TSEWA RETREAT (with the monk Jigme Norbu):
along with damaru and bell learning.
Date : 5th to 7th of June 2020
SANGYE MENLA (with the nun Sherab Drölma):
the medecine Buddha, blue of color, like the lapis lazuli.
Date : 19th to 21st of June 2020
P'OWA AND TEACHINGS ON BARDO:
linked with the Buddha Amitabha, the P'owa practice is a method to transfer the consciousness at the moment of death. Bardo is the intermediate state between two phases. It is not limited to death but regulates one's whole existence.
Date : 4th to 9th of August 2020
INNER PEACE AND SILENT LUCIDITY (with Lama Namgyal):
the purpose of meditation is to recognize the primordial nature of our mind and to remain there peacefully. This familiarization, based on ethics and fundamental kindness, comes along with stability and clarity. The inner lucidity can then fully rise, beyond words and concepts.
Date : 4th to 6th of September 2020
GURU YOGA (with the monk Jigme Puntsok):
The Guru Yoga is a profound meditation of the Vajrayana. It allows us to realize the union of our perfectly pure mind with the Enlightened mind of the Master, by recognizing all phenomenons as the 3 bodies of the Enlightenment, the Mahamudra.
Date : 9th to 11th of October 2020
NYUNG-NAY:
NYUNG-NAY is a powerful purifi cation practice based on universal compassion, to which we can link ourselves by invoking the 1000 armed Chenrezi form, and on the observance of temporary fasting and silence vows. This practice, accompanied by numerous prostrations, prayers and mantra recitations, lasts for two entire days and can be renewed: partial fasting on the 1st day (Nyay-Nay), complete fasting and silence on the 2nd day (Nyung-Nay).
Date : 22nd of October to 8th of November 2020
MÉDITATION SUR LES ÉMOTIONS EN LIEN AVEC LE MANTRA OM MANI PADMÉ HOUNG (with Lama Thrinle):
Thinking on each emotion linked with each syllable of the mantra, practising the chant and the recitation of the mantra and the visualisation of a specifi c color in order to purify each emotion and to transform it, and then meditating silently on the nature of each emotion, such are the 3 steps of the practice, along with explanations on the mantra and its benefi ts, in reference with the book « Le doigt qui montre la voie »
Date : 20th to 22nd of November 2020
VAJRAYOGINI:
one of the major Yidams in Vajrayana, she is the female representation of emptiness and bliss, proper to the natural state of the mind.
Date : 10th to 13th of December 2020
GREEN TARA (with the monk Jigme Dordje):
Green Tara is a female Buddha, holder of all the accomplishments and offering protection from all forms of suffering, diseases and obstacles.
Date : 15th to 17th of January 2021
NGONDRO RETREAT:
The Preliminary Practices, recommended by all masters, are essential in order to establish foundations for the practice. Each day comprises four sessions: Refuge practice and prostrations, Vajrasattva, Mandala practice and Guru Yoga (Yoga of the Master).
Date : 3rd to 7th of February 2021