Collectives retreats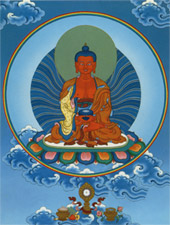 The retreats (unless otherwise noted) are directed by Drubpön Ngawang Tenzin Pagsam Yongdu and start in the evening by a practice at 6 p.m.

The contribution to Tsok and lamp offerings is left to one's own choice.
Registration is to be made before the beginning of the retreats, on the centre's website (www.drukpa.eu).
Registration and bookings are confirmed once the paiment is received, at the latest 3 days before the arrival date.
Retreat led by :
Normal
80% rate
70%rate
50% rate
Drubpön Ngawang Tenzin,
Lama Namgyal, Lama Thrinle,
a nun or a monk.
20.00 €
16.00 €
14.00 €
10.00 €
NB : The different rates are applied according to the income per month :
normal : income over 2000€
80% rate : income between 1500€ and 2000 €
70% rate : income between 1000€ and 1500€
50% rate : income under 1000€
The practices concluding the retreat, as well as thoses conducted on special days are open to all.
GURU DEWA RETREAT (TELECONFERENCE):
is a manifestation of Guru Padmasambhava.
Date : 3rd to 5th of April 2021
NGONDRO RETREAT:
The Preliminary Practices, recommended by all masters, are essential in order to establish foundations for the practice. Each day comprises four sessions: Refuge practice and prostrations, Vajrasattva, Mandala practice and Guru Yoga (Yoga of the Master).
Dates : teleconferencing 13th to 16th of May 2021, on-site 2nd to 6th of February 2022


P'OWA AND TEACHINGS ON BARDO (ON SITE) :
linked with the Buddha Amitabha, the P'owa practice is a method to transfer the consciousness at the moment of death. Bardo is the intermediate state between two phases. It is not limited to death but regulates one's whole existence.
Date : 6th to 11th of July 2021
AMITABHA ( ON SITE ) :
Buddha of infi nite light, red in colour, Amitabha rules over a pure land renowned for being easily accessible, « The Land of Great Bliss ».
Dates :
with Drubpön Ngawang 28th of July to 1st of August 2021 (canceled)
with the nun Jigme Meunlam 17th to 19th of December 2021 (canceled)
THE INNER PATH : MEDITATIONS, PRESENCE AND HEART OPENING ( ON SITE with Tsunma Nawang Jinpa).
In the Tibetan language, Buddhism is called « the Inner Path ». Integrating within, by and for ourselves, the Tibetan skills of inner opening and liberation is an intimate journey, rich with discoveries and at times tricky. By combining silence, meditative practice - particularly Chenrezi and Yangtik - reflections and answers to questions, this retreat offers a dialogue between traditions and modernity, East and West, rituals and neurosciences.
Date :

6th to 8th of August 2021

(canceled)
MEDITATION RETREAT ( ON SITE with Lama Namgyal).
During the week-end, teachings and practices on the meditation that relates to inner peace and great vision: like the sun that, behind the clouds, illuminates the space, meditation's purpose is to enable us to recognize the primordial nature of our mind and to remain there peacefully. This recognition is source of the development of wisdom and compassion.
sunday evening, silent retreat: during the day, one teaching session and several group/ individual meditation sessions.
Attendance at the entire retreat is recommended. Although a functional speaking is possible, everyone is requested to disconnect from the multimedia tools (phone, internet,...) Recommended reading: The Jewel ornament of liberation by Gampopa.
Date : 21st to 28th of August 2021 (canceled)
CHOD SENGEY TSEWA RETREAT ( ON SITE with the monk Jigme Norbu):
along with damaru and bell learning.
Date : 10th to 12th of September 2021 (canceled)
NYUNG-NAY (ON SITE)
is a powerful purification practice based on universal compassion, to which we can link ourselves by invoking the 1000 armed Chenrezi form, and on the observance of temporary fasting and silence vows. This practice, accompanied by numerous prostrations, prayers and mantra recitations, lasts for two entire days and can be renewed: partial fasting on the 1st day (Nyay-Nay), complete fasting and silence on the 2nd day (Nyung-Nay).
Date : 11th to 28th of October 2021 (canceled)
MEDITATION ON EMOTIONS IN LINK WITH THE MANTRA OM MANI PADME HOUNG ( ON SITE with Lama Thrinle) :
Thinking on each emotion linked with each syllable of the mantra, practising the chant and the recitation of the mantra and the visualisation of a specifi c color in order to purify each emotion and to transform it, and then meditating silently on the nature of each emotion, such are the 3 steps of the practice, along with explanations on the mantra and its benefi ts, in reference with the book « Le doigt qui montre la voie ».
Date : 10th to 14th of November 2021 (canceled)
SANGYE MENLA ( ON SITE with the nun Sherab Drölma):
the medecine Buddha, blue of color, like the lapis lazuli.
Date : 26th to 28th of November 2021 (canceled)
VAJRAYOGINI (ON SITE) :
one of the major Yidams in Vajrayana, she is the female representation of emptiness and bliss, proper to the natural state of the mind.
Date : 8th to 12th of December 2021 (canceled)
GURU DRAKPO KILAYA (ON SITE).
One of Guru Padmasambhava's wrathful manifestation. This practice is conducted in order to overcome the obstacles and the serious illnesses. His Holiness Gyalwang Drukpa has given the empowerment and the instructions several times.
Dates :
teleconferencing 30th December 2021 to 1st January 2022
26th February to 3rd March 2022
GREEN TARA ( ON SITE with the monk Jigme Dordje)
is a female Buddha, holder of all the accomplishments and offering protection from all forms of suff ering, diseases and obstacles.
Date : 14th to 16th of January 2022
GURU YOGA ( ON SITE with the monk Jigme Puntsok) :
is a Vajrayana profound meditation. It allows us to realize the union of our perfectly pure mind with the Enlightened mind of the Master, by recognizing all phenomenons as the 3 bodies of the Enlightenment, the Mahamudra.
Date : 18th to 20th of February 2022