Practices and important dates
You can view the monthly practices and important dates on
the programe of our website
.
Pratices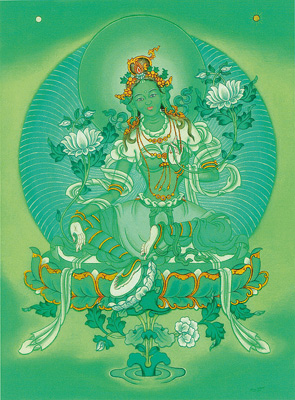 - The Centre offers two daily practice sessions, open to all :

• 7 a. m. Tara practice
• 6 p. m.Chenrezig and Mahakala practices

- Other practices are carried out at auspicious times during the month, according to the Tibetan lunar calendar (each Tibetan month starts with the new moon):
8th lunar day :
Sangye Menla, the Medicine Buddha's day
Sangye Menla practice with lamp offerings.
10th lunar day :
Guru Padmasambhava's day
Yangtig Tsok practice or Guru Dewa with Tsok offering.
15th lunar day :
full moon, Buddha Amitabha's day
Amitabha or Chenrezig Tsok practices.
25th lunar day :
Dakinis' day
Vajrayogini Tsok practice or Sengey Tsewa
30th lunar day :
new moon, Buddha Shakyamuni's day
Amitabha or Chenrezig Tsok practices*
* practice according to Shakya Shri's text

- It is possible to request prayers for people who have just died or for people in great difficulties. The donations made on this occasion will be dedicated to the lamp offerings that accompany the practice.
Other Important Dates
The Centre celebrates the important events of the Tibetan calendar by practices accompanied by Tsok and lamp offerings.
-
Losar
: the Tibetan New Year, the 16th of February 2018 (Earth Dog year 2145) will be celebrated at the centre by an open day on sunday 18th of February 2018 (guided tours from 2 p.m., conference at 3 p.m., Tibetan biscuits and tea).
-
Düchen mark
the major events of Buddha Shakyamuni's life and bear a distinctive blessing.
Chötrul Düchen
the 2nd of March 2018 and 19th of February 2019,
commemorates the fi rst 15 days of the year during which Lord Buddha
performed a miracle each day to arouse devotion and increase the merits of
the non-disciples.
Düekhor Düchen
the 29th of April 2018, anniversary of the day when Buddha
Shakyamuni gave the teaching on Kalachakra (Wheel of Time).
Tampei Düchen
the 21st of May 2018, anniversary of Buddha Shakyamuni's
birth.
Sangye & Nyangde Düchen
the 29th of May 2018, anniversary of the
Buddha's Enlightenement and Mahaparinirvana.
Chökhor Düchen
the 16th of July 2018, anniversary of the day when the
Buddha turned the Dharma Wheel for the fi rst time.
Lhumsu Zhugpei Düchen
the 27th of August 2017, anniversary of the day when the Buddha miraculously entered the womb of his mother, queen Mayadevi.
Lhabab Düchen
the 31st of October 2018, anniversary of the day when the
Buddha came back from the world of the gods, after teaching there.

- The anniversaries of the Parinirvanas of the lineage's main Masters.

- The anniversaries of His Holiness the Twelfth Gyalwang Drukpa and of Kyabje Thuksay Rinpoche will be celebrated on the 25th of February 2018 and the 15th of February 2019.

-His Holiness the Dalai Lama's birthday on the 6th of July 2018.