Presentation of the center

In 1984, His Holiness the Gyalwang Drukpa sent Khenpo Yeshe Choedar Rinpoche to France near Monaco to establish a Dharma center. Under this impulse, one year later, the Plouray Drukpa center was created.
In 1986, His Holiness came to France for the first time. He blessed the Plouray center, instituting it as the European center of the Drukpa Lineage and gave it the name of "Druk Thupten Choekor Ling".
Since then, His Holiness is regularly invited at the Plouray center and in the other European centers to give the precious Teachings of the Buddha.
However, Khenpo Yeshe Choedar Rinpoche had to return to India due to health problems. Therefore, Lama Ngawang succeeded him as the representative of His Holiness the Gyalwang Drukpa in Europe.
In 1994, was held in Plouray, in the presence of the Gyalwang Drukpa and of his precious parents, the first great empowerement of Chakrasamvara.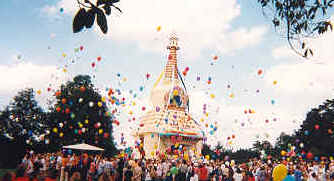 Stupa inauguration - Plouray 1997
Under the impulse of Lama Ngawang, the Stupa of auspicious doors was erected and inaugurated in 1997, in the presence of His Holiness the Gyalwang Drukpa and his parents, on the occasion of the great Mendrup Drubpchen of Vajrakilaya, according to the Drukpa tradition of Kunkyen Pema Karpo.
In December 1999, the Lord of Refuge Kyabje Trulshik Rinpoche came to bless the center of Plouray, and gave his precious Teachings and Yangtik empowerement.
In 2001, the Vidyadhara Namkhar Drime Rabjam Rinpoche gave the Guru Dewa empowerement. A tsok to Chenrezi (from the treasure text of Drubwang Shakya Shri) was offered.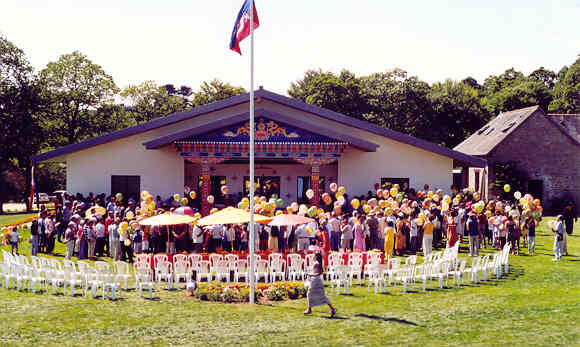 teaching hall inauguration - Plouray August 2003


In 2003, the large teaching hall was inaugurated by His Holiness, in the presence of his parents and the second Thuksey Rinpoche. On that occasion, a second Mendrup Drupchen of Vajrakilaya took place. Around six hundred students and disciples of His Holiness attended the great spiritual event.
In May 2004, the Drukpa center of Plouray was officially recognized as a religious congregation by the French government.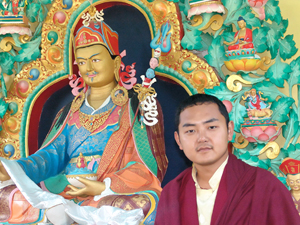 S.E Khamtrul Rinpoché
In 2007, the ninth Khamtrul Rinpoche Jigme Pema Nyinjadh accompanied His Holiness the Gyalwang Drukpa for the first time in Plouray.
It is very fortunate for the students and disciples, to have received through all these years, numerous Teachings from such an authentic Master, holder of the Vajra, treasure of infinite compassion and incarnation of Pema Karpo.
The nectar of his precious Teachings on the Preliminaries, Chine and Mahamudra, has been received by his students and disciples as well as the empowerements of the Yidams of the Lineage, such as Chakrasamvara, Vajrayogini or Choe Senge Tsewa according to the tradition of Pema Karpo.
All these years, His Holiness has unceasingly and freely given his precious advice and taught everyone to develop a good, generous and pure heart for the well being of all sentient beings.