Ven. Drubpön Ngawang's letter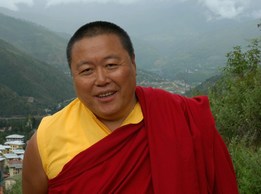 The venerable Drubpön Ngawang Tenzin
I send you all my best wishes for this New Year of the Earth Pig.

We have been honored with the presence of His Eminence Kyabje Thuksay Rinpoche for the end-ofyear retreat at the Drukpa Plouray centre, during which he gave teachings on the 37 Practices of Bodhisattvas. Everything went very well and His Eminence was very pleased. He then traveled to some European centres of the Lineage where he also gave teachings and bestowed empowerments.

In the course of this Earth Pig year, we will have the fortune and honor to welcome His Holiness Gyalwang Drukpa next August, and in April His Eminence Kyabje Gyaltsen Tulku Rinpoche, a great Bhutanese Yogi.

In addition, the Drukpa Plouray centre continues to organize retreats all year long, among which the Nyoung Nays, which give me great joy to conduct. The monks and nuns are also involved in regular gatherings, such as talks and exchanges with the participants.

I encourage you to come to the Drukpa Plouray centre, of course whenever His Holiness Gyalwang Drukpa or other great Masters are present, but also to attend the various retreats and daily practices.

Perseverance is one of the qualities we should develop, and it is important to maintain the connection with the practice and the teachings throughout the year.

With all my prayers.
Drubpön Ngawang Tenzin Pagsam Yongdu
Representative of His Holiness Gyalwang Drukpa in Europe